Milwaukee Tools continues to be a leading innovator in the power tool industry, offering top-notch heavy-duty products used all across North America. Unveiling their M18 Fuel Milwaukee Power Tools collection, Ottawa Fastener Supply helps do-it-yourself experts and contractors make their workspaces easier to navigate. These tools combine power, performance, and fast run-time to provide high-quality results. Ottawa Fastener's state-of-the-art M18 Fuel Milwaukee line provides you will all these benefits and then some.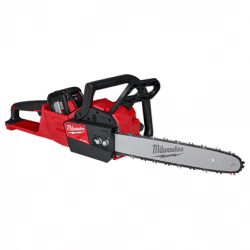 This M18 Fuel 16" Chainsaw can cut hardwoods, cuts as fast or faster than a gasoline saw, and deliver up to 150 cuts per charge. It's an ideal tool to meet the performance, ergonomic, and durability needs that come with the professional landscaping and power utility industries.
Like all other M18 kits, this includes the POWERSTATE Brushless Motor, which maintains speeds under heavy loads without struggling to outperform small gas engines or higher voltage systems. It also has REDLINK PLUS intelligence to ensure maximum protection from overheating, overload, and discharge. Furthermore, another new product, the REDLITHIUM High Output HD12.0 battery, provides optimum performance, even in frigid weather and drives full-corded replacement on your job site.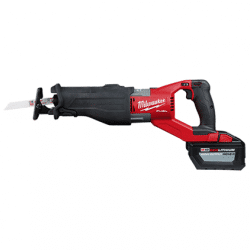 M18 Fuel Super Sawzall Kit
The Super Sawzall reciprocating saw was designed for high output and is renowned for its orbital action, which provides an aggressive cutting performance in wood and a smooth cut in metal.The saw delivers faster cuts than 15A reciprocating saws and has a 1-1/4" stroke length, which removes more material. You'll also be impressed by its variable speed trigger, a 5-speed dial offering maximum speed control for any application, and a rafter hook to store the saw between cuts.
Other Notable Milwaukee Kits
The 7″/9″ Large Angle Grinder Kit is the world's first 18V LAG that delivers the power of a 15A corded large angle grinder. It provides high performance, advanced ergonomics, and top-quality durability, plus, it affords you less downtime during work by using its FIXTEC nut and guard adjustments.
The 7-1/4" Circular Saw Kit includes a saw weighing 40% less than its corded counterpart while producing up to 300 cuts per charge without sacrificing depth or performance. It also has an LED light that gives you strong cutline visibility in low-light situations, with a magnesium shoe and upper/lower guards to reduce tool weight.
The 8-1/4" Table Saw with One-Key sets a new precedent with its ability to connect to your smartphone to track tool performance and location. You can also pinpoint missing tools and increase team accountability on or off-site.
Plus, there's the 2-Tool Combo Kit, including the most powerful 18-Volt cordless drill on the market as well as a ¼" Hex Impact Driver possessing high fastening torque.
With every M18 Fuel Milwaukee Power Tools kit, you get revolutionary products that emphasize speed and power while being adaptable to location and technology, and they're all available at Ottawa Fastener Supply.
Shop our new Milwaukee tools in store now!