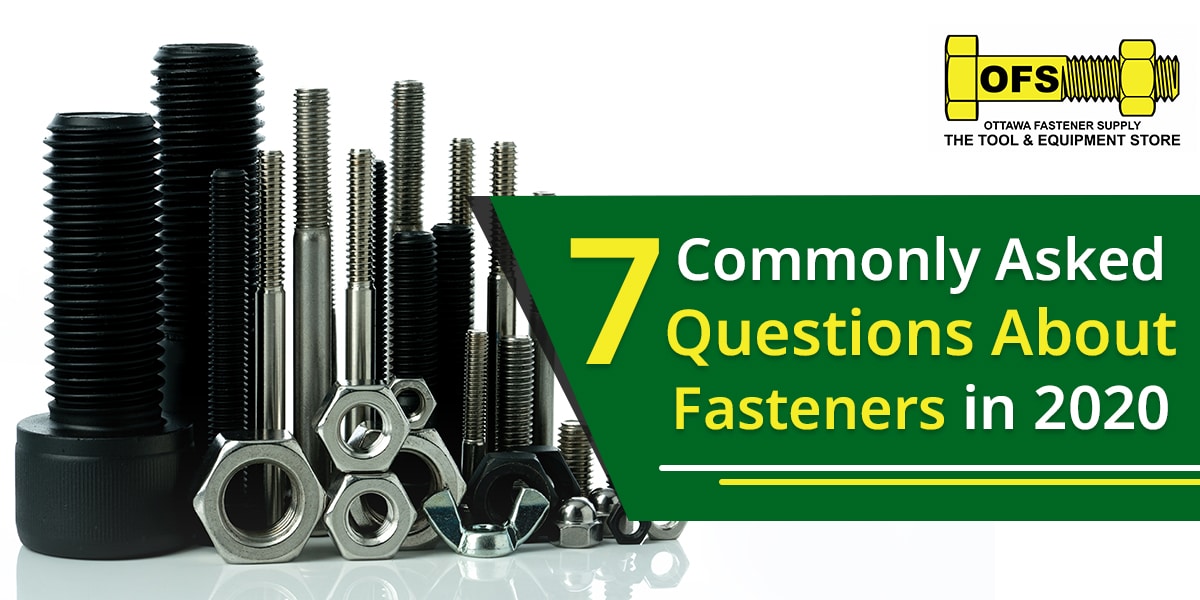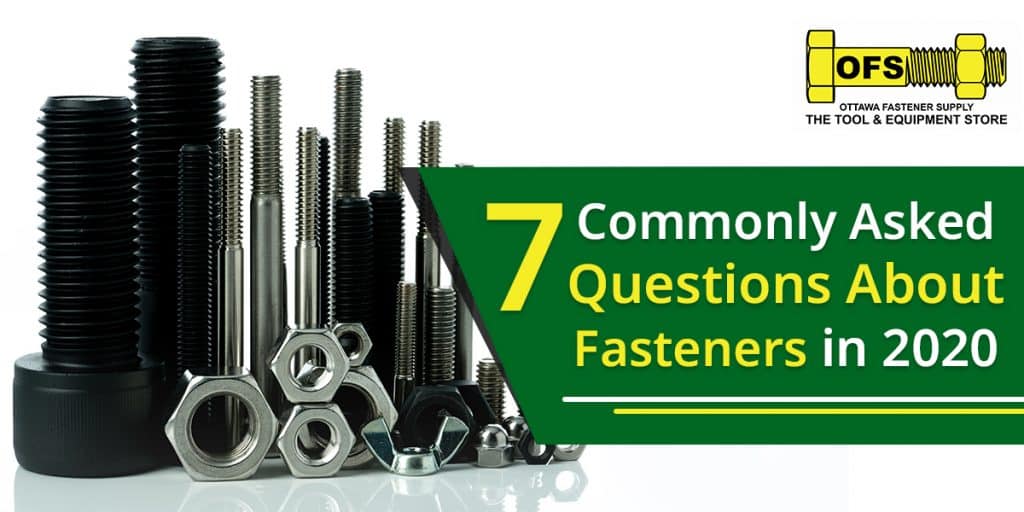 Choosing the best fastener for your project helps ensure it is built strong and will last for years. However, walking down the aisle of a hardware store and seeing hundreds of boxes of bolts, nuts, and screws overwhelms even the most hardened carpenter. Why so many different kinds? A bolt is a bolt is a bolt…right? They all do the same job, so why are there stainless steel and galvanized steel? Isn't stainless the strongest? Does stainless steel ever rust or corrode? When is the best time and application for imperial sizes over metric?
If you have ever stood in the middle of a fastener aisle and scratched your head in confusion and frustration, you are in the right place. At Ottawa Fastener Supply, we understand. We make it our mission to provide contractors and DIY warriors with the correct type of fastener for their projects. We are happy to take time and chat about what you are building or repairing and then find the best nuts, bolts, or screws for the mission. We even have a world-famous wall of fasteners just waiting for you to explore.
It is helpful to combat feelings of overwhelm with knowledge. Before you step foot in any hardware or home improvement store, check out the answers to these seven most commonly asked questions in Ottawa about fasteners.
What are fasteners?
Fasteners are tools that hold two pieces together in a non-permanent joint. For example, using a deck screw to attach a deck board to a ledger board creates a joint. Because in theory, these two pieces can be separated, they are considered non-permanent. Unless you are welding, you will most likely be creating non-permanent joints using your drill or screwdriver.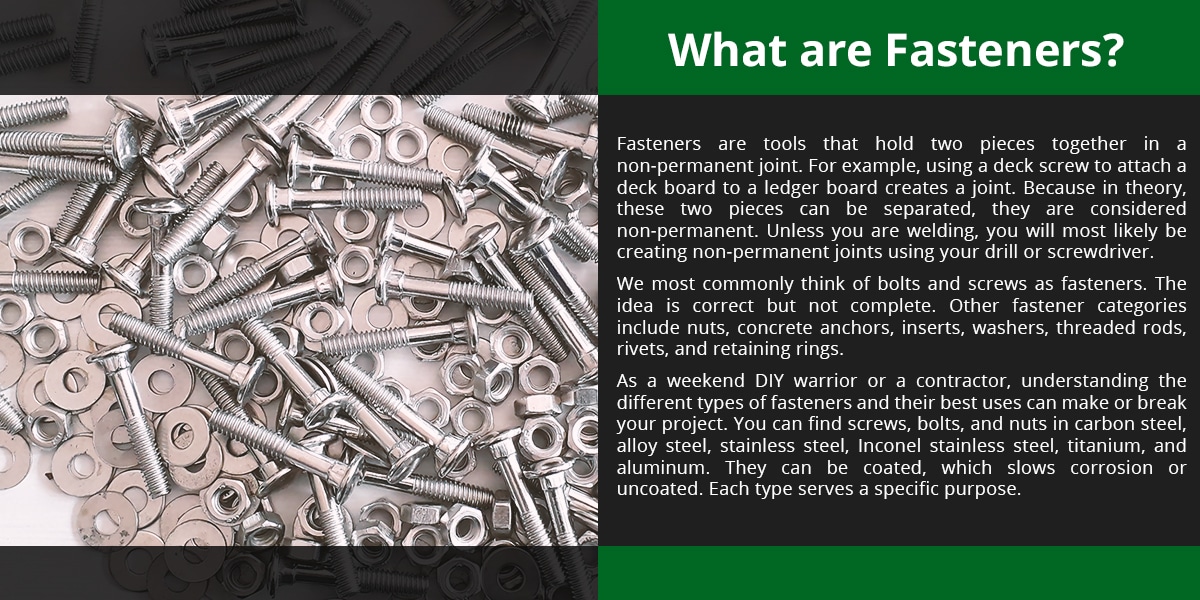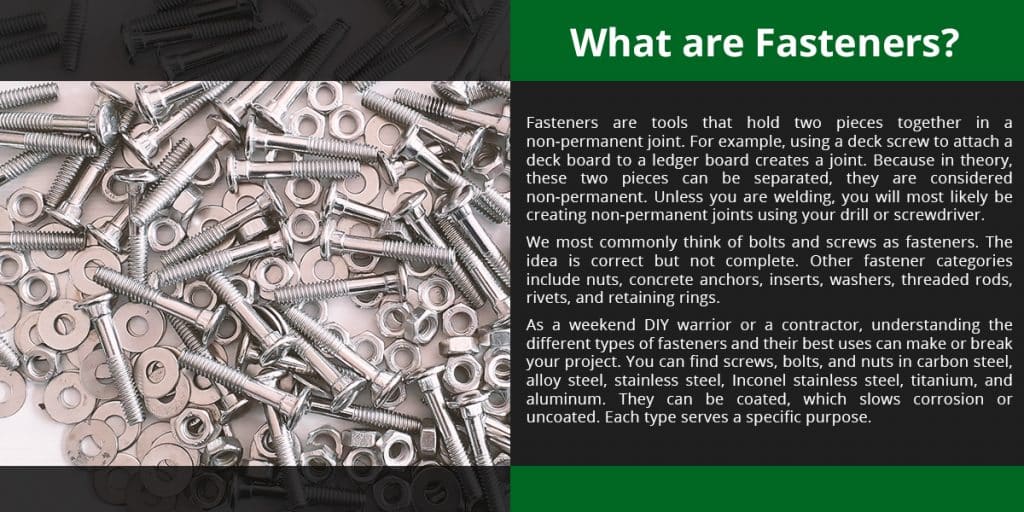 We most commonly think of bolts and screws as fasteners. The idea is correct but not complete. Other fastener categories include nuts, concrete anchors, inserts, washers, threaded rods, rivets, and retaining rings.
As a weekend DIY warrior or a contractor, understanding the different types of fasteners and their best uses can make or break your project. You can find screws, bolts, and nuts in carbon steel, alloy steel, stainless steel, Inconel stainless steel, titanium, and aluminum. They can be coated, which slows corrosion or uncoated. Each type serves a specific purpose.
How strong are stainless steel fasteners?
People believe that stainless steel is stronger than regular steel, but that is not necessarily the case. You may hear it referred to as a soft metal. It is an alloy of low carbon steel and chromium. The low carbon steel cannot be hardened, so it is technically weaker than regular steel.
Stainless steel is popular to use for consumer products. It has hygienic properties, making it useful for surgical and culinary products. It is easy to fabricate and is appealing to the eye. That doesn't mean it is the best choice for industrial-type projects.
To enhance its strength, stainless steel comes in different grades. For example, 18-8 stainless is comprised of about 18% chromium and 8% nickel and is used primarily for hardware. Stainless 316 is resistant to saltwater and chlorine environments, while stainless 410 is harder than 18-8.
Here are some uses of common grades of stainless steel fasteners:
18-8: marine application both fresh and soft water
305: deck screws for use with wood or composite boards
316: saltwater application – boats, docks, piers, and pools
410: roofing screws, siding screws, and self-tapping screws
Will stainless steel fasteners ever rust?
It is possible for stainless steel fasteners to rust even though they are highly corrosion resistant. This type of steel has the magical power to self-repair. It has an invisible oxide coating that protects the steel from external factors. This adds to its ability to fight rust, especially in an oxygen-rich environment.
To ensure your fasteners will not rust, you will want to choose the best grade for the environment the screws and bolts will be exposed to. Are you building a dock or pier for the local yacht club by the sea? Then it would be best if you choose grade 316 stainless steel. If you are re-roofing a residential home, then you want to consider 410 stainless.
What is the difference between the grades in Metric and Imperial bolts?
The main difference between the grades in metric and imperial bolts is how each is measured. Metric bolt heads are measured in millimeters while Imperial (or standard) are measured in inches or fractions of inches.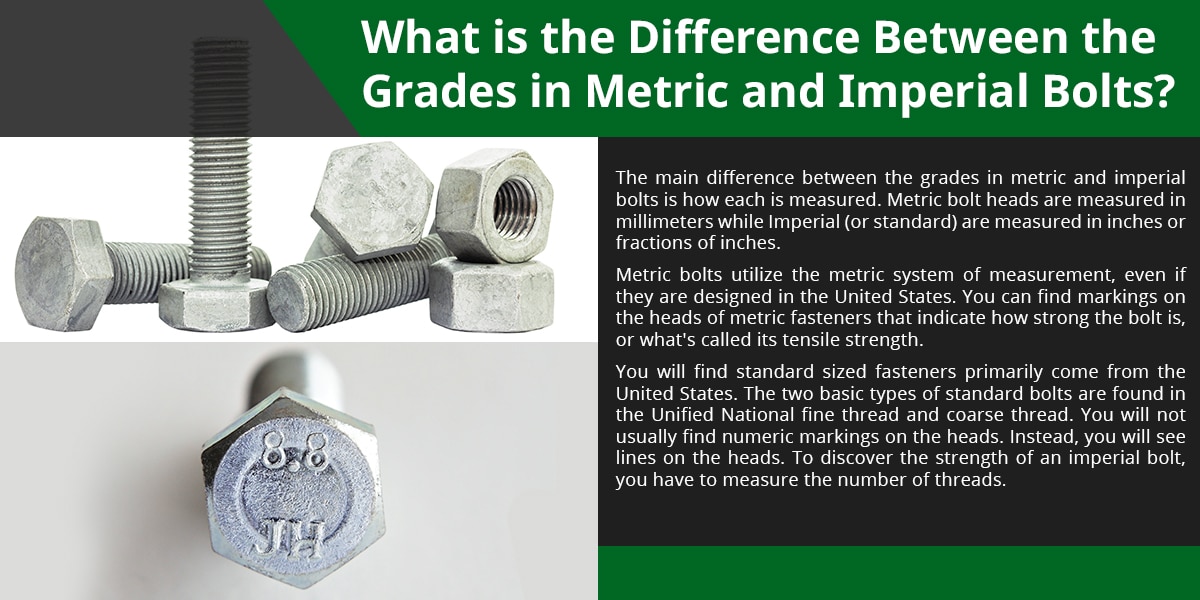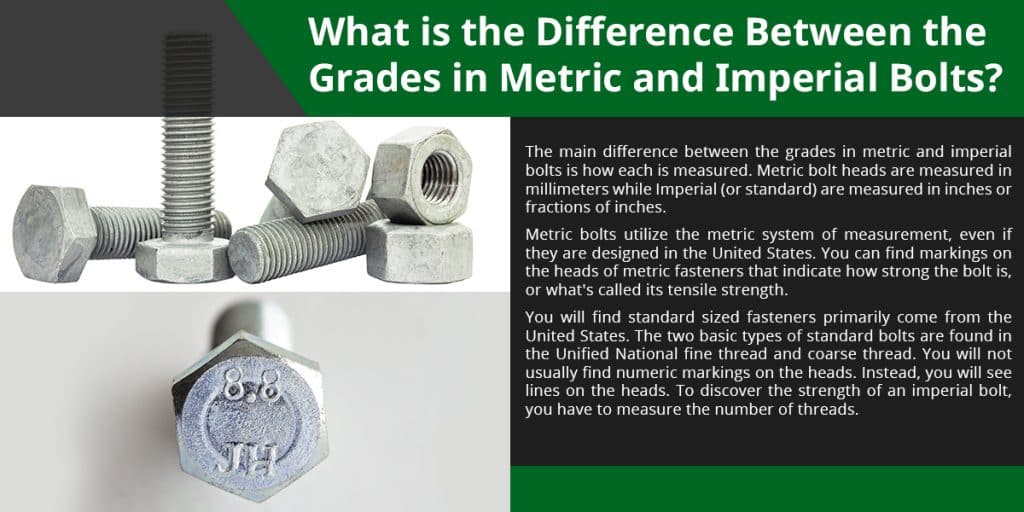 Metric bolts utilize the metric system of measurement, even if they are designed in the United States. You can find markings on the heads of metric fasteners that indicate how strong the bolt is, or what's called its tensile strength.
You will find standard sized fasteners primarily come from the United States. The two basic types of standard bolts are found in the Unified National fine thread and coarse thread. You will not usually find numeric markings on the heads. Instead, you will see lines on the heads. To discover the strength of an imperial bolt, you have to measure the number of threads.
Do I need to pre-drill holes for screwing into wood? Steel? Rock?
It pays to drill pilot holes before screwing in your fastener. Pre-drilling saves you heartache and frustration as you progress through your project.
Let's take wood. When you drive a screw into wood without pre-drilling a hole, you push the wood fibers out of the way to make room for the fastener. The displaced threads put added pressure on the screw and can cause cracking and splitting of the wood. By creating pilot holes, your screw will not break off, and the wood will not crack.
Screws are not made to drill through metal easily. You may be able to use a self-drilling fastener; however, you can use pre-drilling to save your material and your patience when you don't have any. You can also use any drill. You just want to use the best choice in drill bits for the material you're working with.
For rock, you want to use a hammer drill because the material is much harder than wood and steel. You will also want to grab some masonry drill bits.
When should I use fine thread nuts/bolts?
You will want to use fine threaded bolts when working with metal. For example, you have an already threaded piece of metal that you affix to another piece of metal. It also applies if you have two metal pieces that need fastening together with a washer and nut.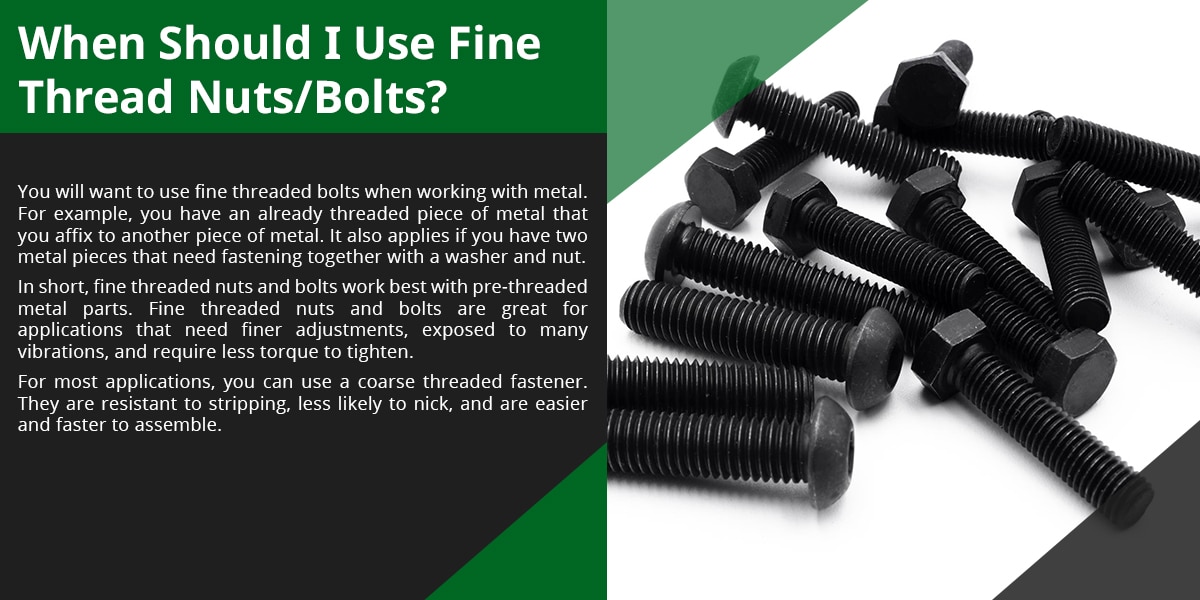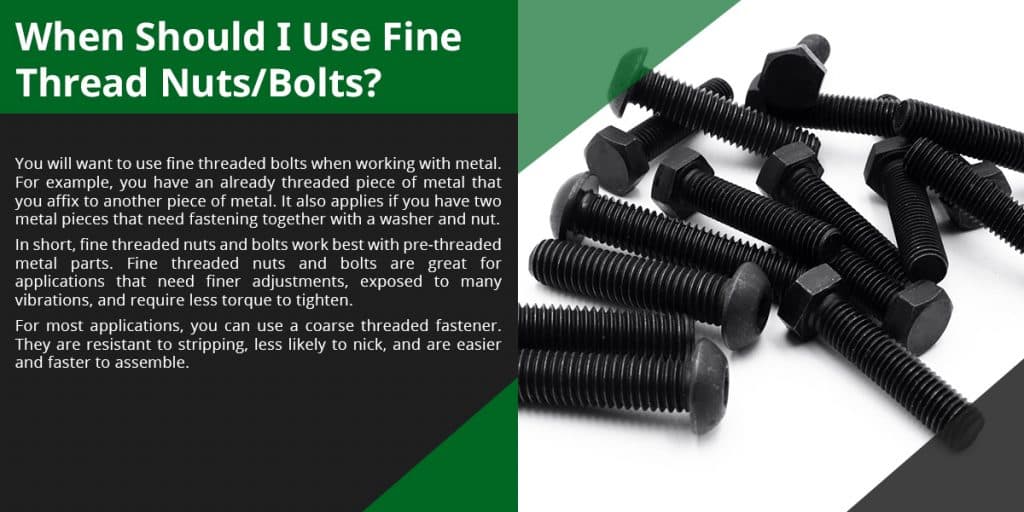 In short, fine threaded nuts and bolts work best with pre-threaded metal parts. Fine threaded nuts and bolts are great for applications that need finer adjustments, exposed to many vibrations, and require less torque to tighten.
For most applications, you can use a coarse threaded fastener. They are resistant to stripping, less likely to nick, and are easier and faster to assemble.
When should I use a lock washer vs. a lock nut?
Either choice will give you a tight fit for your bolts. There is a bit of a difference based on the type and environment of the application. Don't worry. There are just as many types of lock nuts and lock washers as opportunities to use them!
A lock washer can handle the pressure of torqueing a bolt or screw down and is best used for those projects where there is a lot of heat or vibration. Consider if you are working on your car's alternator or changing the muffler. There is no other place that you can get quite the combination of heat and vibration than your daily drive.
You will find locknuts used primarily in home projects that don't need or cannot handle a lot of torque to tighten it. These might include light fixtures.
Ottawa's World-Famous Wall of Fasteners Has What You Need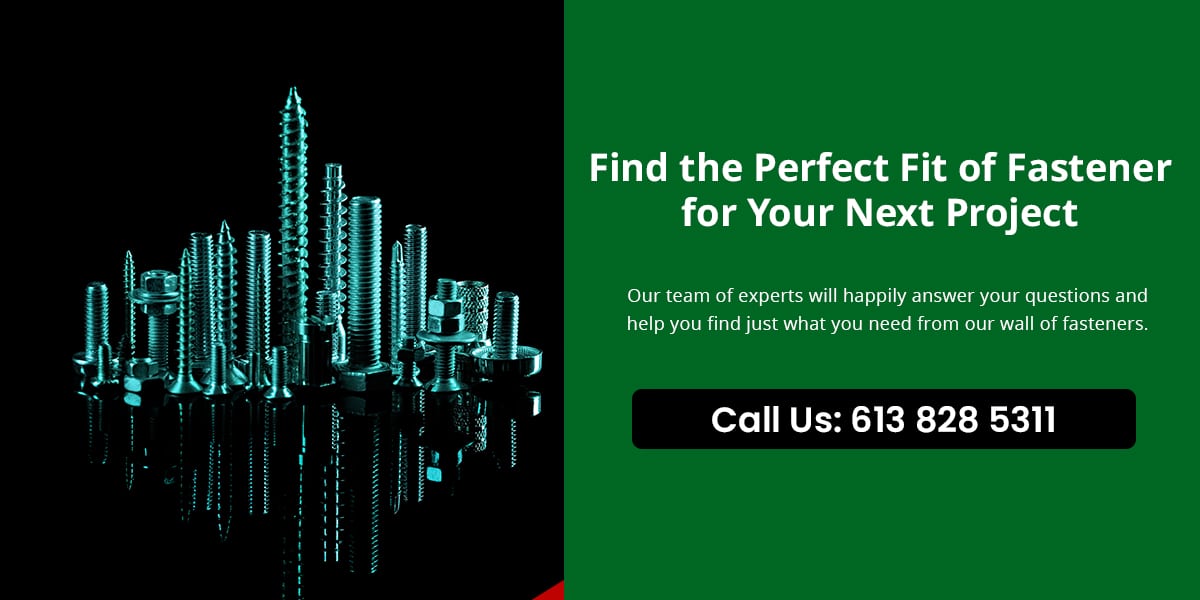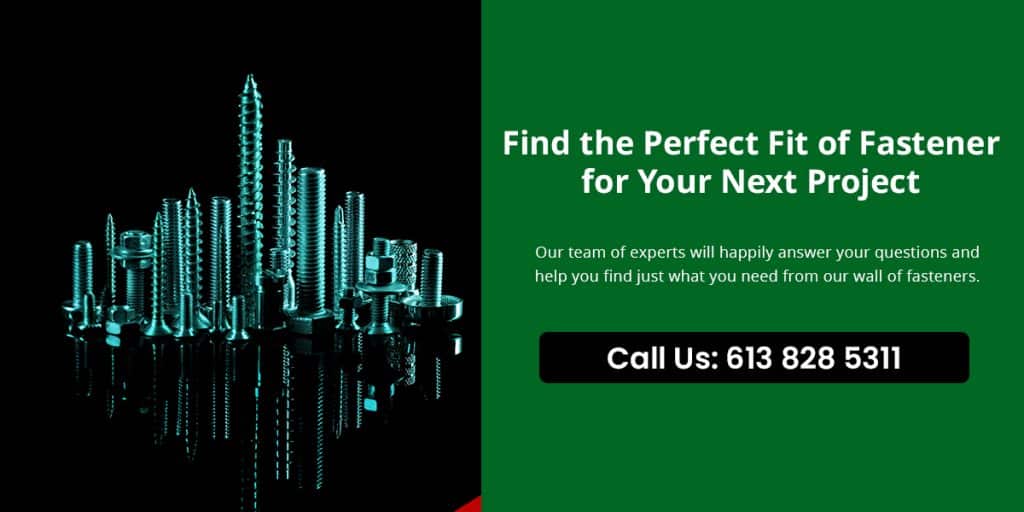 Find the perfect fit of fastener for your next project when you stop by one of Ottawa Fastener Supply's two convenient locations. Come in and talk with us about your needs. Our team of experts will happily answer your questions and help you find just what you need from our wall of fasteners. No more frustrating decisions about the correct type of bolt or screw—come see us today!