April 25-27 at The Tool & Equipment Store – No Tax!
Ottawa (April 15, 2019) – Industry leader, Ottawa Fastener Supply is proud to announce its 14th annual April Tools Day Event coming to their Tool & Equipment Store on April 25, 2019. The amazing 3-day event takes place in a 10,000 square foot space packed with the highest quality and extensive variety of equipment, fasteners, outdoor power equipment, tools and accessories. Buyers enjoy the additional benefit of No Tax for all three days of the event.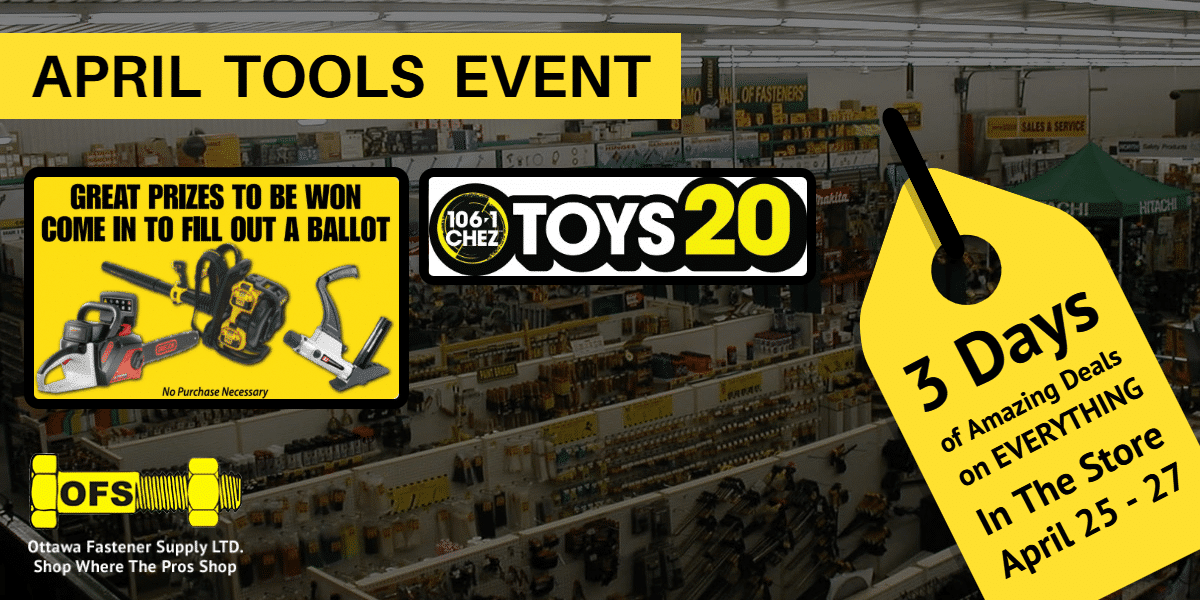 This year, the event runs in two store locations. There is a West End location at 2205 Robertson Road and an East End location at 700-3020 Hawthorne Road.
On Thursday and Friday (Apr 25-26), the two store locations open at 7 am for the event, until 5.30 pm. On Day 3 (Apr. 27), they open at 8 am and close at 5 pm.
Local radio station, 106.1 CHEZ will be live on location at both stores with Alex Black, promoting their legendary Toys 20 bash offering exciting prizes. You can win a key and join us the bash at Overflow Brewing Company where one winner takes home the entire Toys 20 prize package!
April Tools Day is an eagerly awaited experience. Each year, visitors come to this incredible event seeking out bargain prices on top brand names including Bosch Tools, DeWALT Tools, Milwaukee Tools, Makita Tools, Porter-Cable Tools, SawStop, and many more.
In addition to the equipment and tools you can browse through and purchase at the event, we will also provide on-site tool repair and blade sharpening services.
About The Tool and Equipment Store:
The Tool and Equipment Store features over 10,000 square feet of equipment, fasteners, outdoor power equipment, tools and accessories for both contractors and do-it-yourselfers in the greater Ottawa area. It is unique in that it services everything it sells and this includes in-house tool repair. It has been in business for 30 years and continues to grow.
For more information, please call (613) 828–5311 or visit https://www.ottawafastenersupply.com/.